Team Awards and Highlights
- Best Team: North Carolina (still) - Colin Moran and the #1 Tar Heels improved to 10-0 with three quality wins over Rice, Cal, and Texas A&M.
- Best Tournament: The Houston College Classic - This was the place to be this weekend as a smorgasbord of premier college baseball teams gathered to do battle. Friday's matchup of UNC and Rice aces Kent Emmanuel and Austin Kubitza highlighted the tournament action.
- Rivalry of the Week: South Carolina vs Clemson - The Palmetto State Showdown - As a student and season ticket holder, I was treated to a lovely afternoon of baseball at our beautiful stadium here in Columbia. Behind Nolan Belcher's 3 hit shutout, the Gamecocks dominated in an 8-0 win on Sunday, earning (yet another) series win.
- Best Northern Team: Notre Dame - Led by draft prospects Dan Slania and Eric Jagielo, the Irish improved to 8-2 winning 3 of 4 games in the Irish Baseball Classic which you'd think took place in South Bend but for some reason, hmm, maybe the northern weather, took place in Cary, NC.
- West Coast Team of the Week: Cal State Fullerton - After starting the 2013 season with a program best 10-0 record, the Titans finally got doused with a bucket of cold water on Sunday losing the series finale to #14 Oregon 9-1. Still, it's been a very impressive and inspired team performance so far from Fullerton, especially considering Friday's news that Nick Hurtado had passed away.
- Best Winning Streak: Mississippi State - The defending SEC champions have made a bold statement to the rest of the league they're serious about a repeat by starting out their season with a 15-0 record.
- Reality Check Team of the Week: Pittsburgh - The Panthers entered the weekend the #1 team in Warren Nolan's RPI which means very little this early in the season and proved to be the case as UPitt dropped all three games they played at the Bulldog Challenge in Charleston.
- Worst CWS Hangover: Last year's mid major darlings Stony Brook and Kent State (both made College World Series) are both off to dismal starts in 2013. The Seawolves have yet to win a game while the Golden Flashes are just 2-9. Ouch
- Best Nuke LaLoosh impersonation: Baylor Pitching Staff - 14 walks were surrendered in 7 innings in a 15-4 run rule loss to Houston on Saturday. Good golly, miss molly
- Falling Quicker than Sand Award: Arkansas - The preseason #1 team in America surprisingly laid an egg this weekend, dropping all four games they played in the Coca Cola Classic in where else but Surprise, Arizona. This stuff just writes itself sometimes. Note: TCU and Florida are also struggling out of the gate after earning high preseason rankings.
Individual Awards and Highlights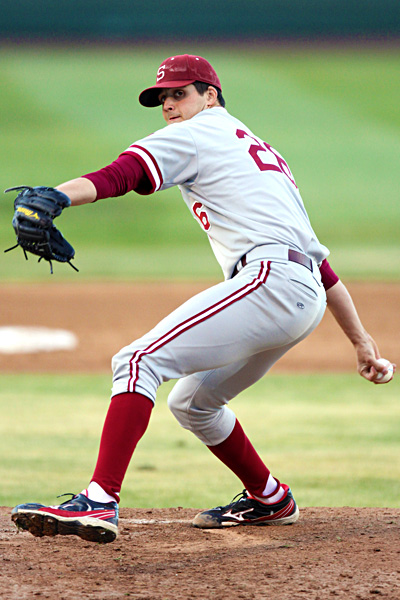 - Pitcher of the Week: Mark Appel - Stanford: Holy smokes. Marky Mark sure is making a strong case to go #1 this time around with his dazzling performance thus far. He only threw his second consecutive shutout (3 H and 14 K's), this time on the road against a ranked Texas team coached by the legendary Augie Garrido.
HM: Kevin Ziomek - LHP - Vanderbilt, Carlos Rodon - NC State (16 K's!), Trevor Williams - Arizona State, Jordan Hymel - LHP - Southeastern Louisiana
- Hitter of the Week: Stuart Turner - C - Ole Miss The junior catcher has played an integral role in the Rebels impressive 11-1 start. He went 8-13 on the weekend driving in 7 runs during the Rebels sweep of FIU.
HM/ Caleb Adams - OF - UL Lafayette, Kris Bryant - 3B - San Diego, Aaron Judge - OF - Fresno State, Andrew Knapp - C - Cal
High Draft Picks Playing Like High Draft Picks
- Kevin Ziomek - LHP - Vanderbilt - Ziomek was masterful, throwing a CG one hitter with 15 K's versus Illinois-Chicago. You might wonder why I didn't name him my pitcher of the week. Simple reasoning: Appel shutout #25 Texas. Ziomek shutout a cup cake Horizon league school that has contributed little to the baseball world aside from Curtis Granderson. That's right, the Grandyman's a UIC alum.
- Trevor Williams - RHP - Arizona State Threw a CG with 9 K's and 0 BB's vs Pacific. Apparently, he touched the mid 90's throughout, even in the 9th. Williams has thrown 21 innings with just 3 ER and 21 K's so far in 2013. Considering he only struck out 59 in 109 innings last year, the increased K/9 so far is worth noting.
- Phillip Ervin - OF - Samford - Ervin continued his hot start batting .400 with a pair of home runs (including a grand slam) and a SB in Samford's sweep of Purdue. As mentioned in Brendon's column, Ervin already has 6 HR's on the year.
- Aaron Judge - OF - Fresno State - The 6'7" Outfielder had a career game Sunday vs USC, going 4-6 at the plate with 2 doubles, a HR, and 4 RBI's. Scouts want to see more in-game power from Judge and their wish has been granted in the early going as he already has 3 bombs in his first 10 games after hitting just 4 total last season. No relation to Mike Judge
Stock Rising?
- Chris Anderson - RHP - Jacksonville: According to Baseball America's weekly draft prospect stat roundup, Anderson has generated some buzz early this season with a fastball that has been clocked as high as 97 mph. In a CG effort vs TCU on Friday, the Jacksonville ace allowed just 1 ER to go with 7 H, 1 BB, and 13 K's.
- Tony Rizzotti - RHP - Tulane - Interesting tweet from Kendall Rogers of Perfect Game.
Was told that #Tulane RHP Tony Rizzotti as up to 95 tonight vs. #Alabama with a wipeout SL. That was a really quality win for GW's #mlbdraft — Kendall Rogers (@KendallRogersPG) March 2, 2013
- Ready for Prime Time Award: Marco Gonzales - LHP - Gonzaga - It's been a good week for the Zags. Their basketball squad somehow has made its way to a #1 ranking thanks in large part to the most watered down top 25 in recent memory. But, let's focus on baseball which took on #2 Arkansas Friday night and shut out the hogs thanks to Gonzales' stellar CG outing. With him on the mound the Zags might be a team to watch closely in both tournaments this year.
- No-No Alert: Jordan Hymel - LHP - Southeastern Louisiana - For the second weekend in a row, a pitcher from the Southland conference threw a no hitter against a SWAC school. The SLU Lions (where my brother Harry Slade plays RF) just happened to be the team with the honor this time. This also happened to be the first game I've been able to watch online which either has something or everything to do with the Lions 9-0 victory over Texas Southern. Hymel, a Senior, did his best Edwin Jackson impersonation by walking 6 batters in the process while striking out 7.
Here are the latest rankings from the NCBWA
Here's college baseball daily's mid major rankings
That's all I got. Have a nice week, everyone. Stay classy, not crassy