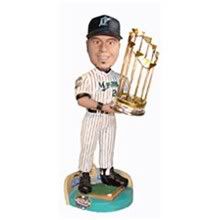 I really wish I knew who this bobblehead is
Anyway, I spent some of my Wednesday afternoon interviewing former Devil Rays Head of Scouting and current Marlins VP of Player Personnel, Dan Jennings.
Dan graduated from Southern Miss with a BS in Phys Ed and a minor in Bio Science. He played in the Yankees system before becoming an area scout with the Mariners from 1988 to 1994. In 1995, he became the Midwest crosschecket with Seattle. In August of 1995, he got a job as Scouting Director for the Tampa Bay Devil Rays. He would stay with them until July of 2002 when he would become  VP of Player Personnel for the Florida Marlins.
Maverick: So you were the Head Scouting Director for the Devil Rays for the better portion of 7 years. You drafted such players as Josh Hamilton(99), Rocco Baldelli(00), Dewon Brazelton(01) and BJ Upton(02). Who were you guys most high on?
Dan Jennings: It's gotta be BJ Upton. A legit 5 tool prospect, he can do it all.
Mav: A follow-up to the previous question... Will Josh Hamilton get reinstated in a few weeks?... and What kind of player would he be?
DJ: Yea, I think Josh will get reinstated in the next couple of weeks. He seems like he has finally gotten his life together. It's a shame what happened to him and its sad baseball didn't get to see a special player like that. He could be Alex Rodriguez, Josh is just that special of a player.
Mav: So you are currently the Marlins VP of Player Personnel..... Did you contact the Marlins or did they contact you?
DJ: They contacted me, I interviewed for the spot and the rest is history.
Mav: Did you catch Baseball America's top 10 next GMs in baseball, column last year?....
DJ:Yea, that was something. Mike (Hill) and I took a lot of crap for that but it was certainly flattering.
Mav: Now when you were with the Devil Rays, what was the drafting philosophy?
DJ: We liked to go with the more athletic players... the old saying goes "high risk, high reward"... GMs and scouts alike get unfairly criticized for taking the athlete over the baseball player... Take for example Carl Crawford... He was one of the best athletes in the draft and he had some ability. Now look at him, he could become the next big thing.
Mav: So when you jumped ship to the Marlins, did the draft philosophy change?
DJ: You know, not really. We like getting the athletes and we have a great national crosschecker in Stan Meek, so we are fairly confident with our picks.
Mav: With Jason Vargas, did you ever consider drafting him for his bat?
DJ: The consensus was pretty much he would stay a pitcher but he can flat out rake as well.
Mav: So take me through a day in the life of Dan Jennings during Spring Training.
DJ: I usually arrive early and do some workouts so I can still look good around these youngsters. Then I chat with Trader Jack (McKeon) for a bit before visiting with GM Larry Beinfest. After that I look through the transactions to see if there is anyone for the Fish to take a look at. Then I will read reports from some coaches on the players in camp from that days workouts. And finally I will head out to the field to watch the minor leaguers workout and then take in some game action.
Mav: How do you prepare for the draft and how much consulting do you do with the scouts?
DJ: Well we have what we call a "warroom" and various scouts, along with the GM are in the room. We have a big magnetic board with every player's name on it. Of course before each pick some of the scouts have their say and I would usally have the final word in Tampa Bay unless Chuck (Lamar) had someone else in mind.... that never happened.
Mav: If someone wanted to get into scouting or the world of baseball how would you go about doing this?
DJ: Its more of the old saying, "it's not what you know, it's who you know". I knew a guy by the name of Julian Mock, who was the Scouting director of the Reds... He asked me if I wanted to help him out and that's how it began for me.
Mav: Whats the deal with Toe Nash?
DJ: Wow, haven't  heard that name in a while... that was the story that just wouldn't go away. I don't really know what he is up to right now.
Mav: So did you read the book Moneyball?
DJ: Yea I certainly did. I loved it. I agreed with some and disagreed with others. Parts of it got me angry as well. I felt some parts were disrespectful to scouts everywhere.
Mav:How is Lincoln Holdzkom's injury?
DJ: Well he has had some elbow trouble but he should be ok. Hopefully this isn't a recurring injury
Mav: Where do you see the following players in 3 years: Josh Willingham, Josh Wilson and Trevor Hutchinson?
DJ: Hopefully all 3 will still be with us. Gotta think Willingham becomes our version of Brandon Inge. Getting anywhere from 350 at bats to 500 at bats a year. Josh Wilson could be a utility guy for us althought he is certainly capable of becoming a fine starting SS. Hutch should be a future set up man. He is a bulldog.
Mav: If Josh Willingham got his 400-500 at bats this year what would some of his numbers look like?
DJ: .270 batting average with around 20 homeruns
Mav: And an OBP around .400?
DJ: Of course. He loves getting on base.
Mav: If you had the first pick in the draft and all money being equal, who would you take in this years draft?
DJ: Wow.... I don't kow... I really like that hitter out in Nebraska, Alex Gordon and of course there is BJ's(Upton) brother Justin... So yea, safe to say I would be pleased if I had either of those two guys
Mav: Did the Marlins look into signing AJ Pierzynski or was it pretty much Lo Duca or bust?
DJ: You know it was really Lo Duca or bust. We really liked him and he seemed to fit in well in the clubhouse
Mav: Will the Marlins attempt to resign AJ Burnett to a 3-4 year deal during the 2005 season?
DJ: It's a "to be determined" issue. You know... we'll be speaking to his agent and seeing what AJ wants to do. We would love to have him in teal for a very long time
Mav: Gimme a pitcher and a hitter in the Marlins system who is not well known who could be a star some day
DJ: Lets see.... A pitcher... how about Josh Johnson and as for a hitter I'll go with a hitter we took in the 3rd round in the 2004 draft, Greg Burns. He can fly and is easily one of the fastest players in baseball.
Mav: Who is a player in ST right now who could make the squad that no one would think about?
DJ: Hmmmm. Gotta go with Joe Dillon on that one. He was truly amazing last year
Mav: Kind of like a Kevin Millar type street to the big leagues
DJ: Yes, very comparable
Mav: And finally.... Is Tim Spooneybarger still the closer of the future?
DJ: We sure hope so. He has tremendous stuff we just have to make sure he stays healthy.